Hello readers! This is leg three of a once very small blog. The first two legs brought me to Korea and then on a little trip around the world. Now, I'm at Oxford studying (sorry,
reading
for a degree). This blog among other things, will share some of my experiences with you and give you a window into Hogwarts, uh, Oxford. There will be a lot of new terminology (it's growing on me) and then inevitable periods of silence as alternating states of panic, despair, work, exhaustion, and word-avoidance as I make my way through this course.
So, let's cut to the chase and get started.
I'm at Oxford University in Oxfordshire, England reading for (terminology) a Master of Science in International and Comparative Education. Come again? You lost me after England. Basically, I'm doing a 9-month Masters in international education and how it applies in all its forms: economically, politically, culturally, religiously, linguistically, policy-wise, environmentally, technologically, and all those other -ly words.
So far, I've met many fellow students, most of whom are international students like myself and most of whom are very nice and easily admit they're waiting for their academic supervisors to tell them their acceptance into Oxford was a fluke. While this may be a community of remarkably bright, accomplished, talented, doers and shakers, the university's name definitely leaves most quivering in silent fear during the first week, if not the first term. It's oddly reassuring to learn that most of your peers, like you, are still awaiting their letter of rejection.
One of the first things I had to do here was buy my robe/ gown. What?! Yeah, it's called
sub fusc
and all students must wear this attire when taking their exams, or matriculating, or doing an oral examination, or some formal college dinners, or any other occasion as determined by their college.
Here's a photo of some undergraduates posing in their
sub fusc
.
Another thing, hear me out on this one. Technically, no student is a member of the university. The only way a student can be a member of the university is by being a student in a college. The university has 38 colleges which are basically tiny communities that are made of a building/ dorm, a body of students (undergrads and postgrads), an impressive looking crest, a bar, and a full or partial rowing team. The colleges aren't really determined by department (though there are always exceptions) and they're considered their own little domains. There are some big and impressive ones like Christ Church (where parts of Harry Potter were filmed)...
Or, smaller ones, like St. Stephen's House (my current college).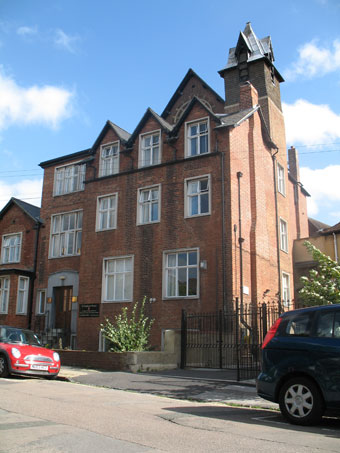 I'll leave you with this for now as I've already been bombarded with information and readings that need to get done.
But on the way out, here are some of the more obscure things I've learned during my first 5 days here:
- Oxford as a town, is quaint and charming and lovely and full of young, brilliant, ambitious people riding their bikes on the left-hand side of the road.
- When writing (not
taking
) exams, I may bring with me a horse, a dagger, and a bottle of whiskey. What you're quickly told is that many things at Oxford made sense in the 12th century but they're a bit funny now. Though, each year, students do show up in their sub-fusc (see above) asking where they can park their very REAL but very rented horse for 3 hours! :)
- The university's unofficial motto is "You should start your dissertation... yesterday!"
- Hermione Granger (aka: Emma Watson, the actress) is supposedly studying at Oxford during a study abroad term from Brown University.
- Oxford's main library, the Bodleian Library (aka: The Bod), one of the oldest libraries in Europe, has books from the 14th century. Consequently, none of the books in this library can be checked out. (FYI: Oxford has only--only-- +100 libraries!)