The English. No one's perfect but they are... an interesting people.
Sure, there are stereotypes but there are also the truths these stereotypes are based on. Anyhow, I found this awesome bookshop called the L2 (2 pound) bookshop; think of it as the 2 dollar bookstore. Interestingly, in this bookshop, I found this book called 'Watching the English: The hidden rules of English behaviour.' Aha! There is hope! And best of all, it's written by a British anthropologist.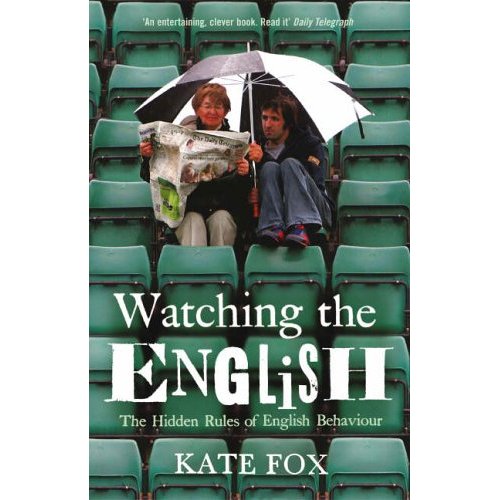 What follows are nuggets of wisdom:
"To be impeccably English, one must perfrom [greeting] rituals badly. One must appear self-conscious, ill-at-ease, stiff, awkward and, above all, embarrassed. Smoothness, glibness and confidence are inappropriate and un-English. Hesitation, dithering, and ineptness are, surprising as it may seem, correct behaviour."
There's hope! That would explain why daily hellos sometimes feel worse than extracting teeth, why most social interactions are static and painful. Ahhhhh! No Casanova on this isle nation.
One more thing that's partly related. I've got beef. I've got beef with the British's overly polite, proper way of saying things. I call that ridiculous passive aggressiveness. Example: when suggesting topics for a project, I received a lot of head nodding, 'uh-huh' followed by a lenghty discourse that led my ears down a corn maze of tangents. Why can't the answer be a simple 'yes, because...' or 'no, because...' ?! Pretty please! I would appreciate that soooo much. But guess what, Toto, you're not in New York anymore.
Next topic: the weather.
This one's big. And horrible. And just as pointless. The English find the Americans painfully straightforward with their "Hi, my name's John and I'm from California." Instead, the English must first weasel their way into conversation by finding a common point that all parties may equally bash: the weather. Apparently, English weather moaning rituals act as a social buffer providing "further opportunities for friendly agreement." But here's the catch: the English may compain about the weather but foreigners cannot. Apparently, they treat the weather as a 'member of the family' (really?!) and "become extremely touchy and defensive at any suggestion that [their] weather is inferior or uninteresting." Seriously? The English weather, like many of its people, is indecisive, awkward, damp and cold.
This next thing isn't British-related, it's a universal observation about being a student.
The thing about being a student is that you feel you're constantly paying (which you do in very real ways and in very metaphorical ways). I pay to print paper, I pay taxes on a package SENT to me, I pay for food and drinks, I pay for books, I pay fees, I pay for laundry, I pay for vegetables, and I pay for my room. I pay for sleep (or lack thereof), I pay for coffee (too much or too little), I pay for wanting to go into too many directions, I pay for being here. Now, I realized I'm a cash cow for this university (as are most students). I willingly entered this partnership. But like most education students, I'm in denial. Why? Because we study phenomena like diploma disease (where students accumulate diplomas and consequently, because there are so many people with degrees, society devalues them; look at India), but are simultaneously engaging in post graduate studies. Sure, we'd all argue for the epistemological and ethical rights and privileges of higher education. But the truth be told, we're also all secretly banking these degrees will bring forth successful employment with cushy salaries and benefits. We're our own paradox.
If all fails, I'm going to go open a bike shop where I'll hold free workshops for girls and women (e.g., how to fix a flat tire) so that ignorant pricks in UK bike shops don't make girls feel intimidated and/ or stupid about their bikes.
There, that was week 2.